Very Little Nightmares
+ MOD (All Unlocked) v1.2.2
Updated on
App Info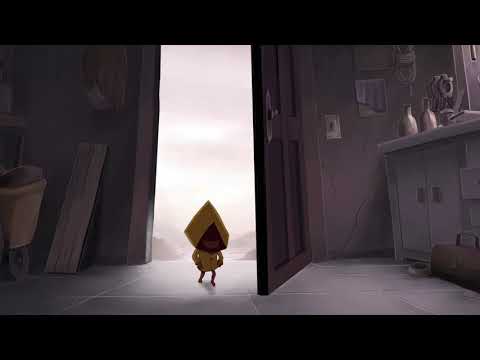 Very Little Nightmares MOD APK
Very Little Nightmares MOD APK For Android is an arcade game with a great combination of horror, puzzle and adventure. It is created by Bandai Namco entertainment Europe. This game involves a story and a magical universe in it, which are enough to give you a tough time in solving the puzzles in this game.
This game is based on the story of a little girl wearing a yellow raincoat. In order to understand the game you have to understand the storyline of the game.
Very Little Nightmares Storyline
A little girl wearing a yellow raincoat wakes up in an unknown residence, where she has to face so many dangers and challenges. Everything in this unknown house wants to kill her. Now, you have to save her with your wisdom and intelligence. You can save her from monsters by solving the puzzles of this mysterious house and guide her to escape.
Very Little Nightmares Gameplay
You have to play this game by helping the little girl and to protect her from the enemies. You have to guide her with the doors and ways to hide and keep an eye on the upcoming dangers in order to keep her secure. You have to solve various mysteries in the house in order to survive, this house is filled with thrilling secrets and puzzles which are yet to be solved. You can solve these puzzles by using your wit and the game resources.
You have to be careful of the giant chef in the kitchen who is eager to cook that little girl for the meal. This game is not conversational at all, it only involves an endless voyage. This journey is full of various monsters and you cannot fight with them, the only option you have is to escape through the dark corners.
Very Little Nightmares Characters
The main characters of Very Little Nightmares game are discussed below:
The Girl wearing Yellow Raincoat –

She is the main character of this game. She is stuck in a mysterious house.
Six –

She is also a girl similar to the main character of the game and she also wants to escape from that house.

Nomes –

They are human-like creatures with exceptional running power.
Very Little Nightmares Bosses
The Craftsman –

An old man on a wheelchair, that follows the girl everywhere in the house to kill her.
Dump Monster –

He is the mysterious character of this game because his appearance is unknown and he lives in the garbage of the house.
The Pretender –

She is a spoiled girl who loves her toys. She is the most important boss in the game and appears in the 16th to 18th level of the game.

Very Little Nightmares Butler –

He is the personal servant of the Pretender. He can move objects from a distance without touching it, with the help of his mental power. He wants to kill the girl without any physical contact by throwing heavy things on her from a distance.
Features of Very Little Nightmares MOD APK
The salient features of Very Little Nightmares MOD APK are given below:
Graphics
This game contains outstanding graphics according to its theme. It gives you the feeling of living in a dark and creepy mansion. Due to its 3D graphics, everything there looks realistic.
Controls
The controls are super smooth and easy. You just have to move the girl with up, down, left and right buttons. This may sound easy but it is really complicated and tough to win this game. You have to generate new ideas in order to solve the complex problems and if your ideas don't work you have to play the game again and think of some new ideas to implement.
Game Sounds
Sounds in this game are frightening and full of thrill as it involves the sound of footsteps of a little girl, wind whispers and various spine chilling sound effects.
These sounds play an important role in making this game more creepy and mysterious.
Ads free game play
You can enjoy a completely Ads free game by downloading the Very Little Nightmares MOD APK from this site. As this mod version of the game contains this premium feature for you without any cost. Now you don't have to pay for removing ads from the game. These ads are enough to kill all the fun of playing games with complete focus and interest. So, relax and enjoy this thrilling and intriguing game without watching any single advertisement banner or video.
Free to download
The official version of this game is not free to download and you have to pay $6.99 in order to download this game from the Google play store or Apple store. But don't worry we have got your back, the "Very Little Nightmares MOD APK" is a modified or cracked version of this game and it is completely free to download. You can easily download this version from this trusted website.
Very Little Nightmares MOD APK Unlimited Everything
This is the most important feature of Very Little Nightmares MOD APK because it contains most useful things in order to play, enjoy and win this game. This feature is a prerequisite to play this game to the full extent. This feature involves all premium and paid items in the game unlocked for you. 
This version is the modified version of the Very Little Nightmares game, so just like other mod versions it contains some additional and premium features of the game unlocked without any requirement of payment or charges. These premium features are not free if you use the official version of the app and you have to pay a certain amount of real money in order to access them. Besides these premium features there are so many locked items and resources in the game store which are essential to play the game properly and they are also purchasable against real money. Every feature or item in the game has a different and specific price according to its value in the game.
Here's the best part: you can access and use all premium features and all game store items completely unlocked in this game version for free.
Some of these premium features are listed below:
Unlimited money and wealth to buy unlimited items from the game store without any hassle.

All premium and paid features unlocked forever.

Unlimited game coins

All levels unlocked. (You can play any level of the game without completing the previous one)

Unlimited everything in the game.

All ads removed.
Very Little Nightmares APK Latest Version
The latest version (v.1.2.2) of Very Little Nightmares MOD APK is available to download on this website. This version was last updated on 8th September, 2021. This version contains many improvements in the game like in the previous version there were issues in moving from one room to the other room, this problem has been fixed in this version. Moreover, this version also fixed many bugs in the game.
You can download the latest version of this game by using the simple method discussed below.
Very Little Nightmares MOD APK Download
In order to download Very Little Nightmares MOD APK:
First of all, open the security settings of your phone and go to the security tab.

From security tab, enable installation of apps and games from the unknown sources

Now, download the Very Little Nightmares MOD APK file by clicking the download link given below

After downloading it, open the file to start installation

When it's installed on your device, start and enjoy this sensational game.
Very Little Nightmares ios
This game is available to download and play on all ios devices (bearing ios 12.0 or above). These devices include iphone, ipad and ipad touch. You can easily download it from the Apple store by paying $6.99 (as downloading charges).
If you don't want to pay for downloading this game on your ios device, then you can download its modified version with all premium features and unlimited resources from this site for free.
You can download this game on your ios device without any hassle by clicking the download button below.
Very Little Nightmares mobile
Very Little Nightmares is very famous on all platforms and it can be played on all mobile phones without any problem of compatibility. You can play it on your android or ios device by downloading it from Google play store, Apple store or any open source website. While downloading this game from any open source website you have to be careful as it may contain viruses. So, always download the apps or games from a trusted website.
Very Little Nightmares Ending
The ending of the Very Little Nightmares game is a top secret for all the players, in order to unlock the ending of this game you have to collect all 18 glitched children in the game. These children are randomly placed throughout the game and they are the most important collectible item in the game.
Alternate Games
Booty Calls Apk Unlimited Money
Cuphead APK latest version For Pc
turboprop flight simulator mod apk
MOD APK version of Very Little Nightmares
MOD feature
All Unlocked